Just because we're stuck in quarantine doesn't mean we don't need content! Now that everyone is on WFM and confined to their living rooms, we are extra responsive to online video content! Whether you're streaming videogames, starting a YouTube cooking channel, or you're recording a presentation for a virtual conference, there are a bunch of ways to keep the production level high while staying safe and physically isolated from others.

1. Killer Content
This may be obvious, but the tools and platforms you use to stream are only as good as the quality of your content. Your most important asset is digital content – presentations, interactive activities, branded videos, etc. These are the vehicles that drive your message and keep guests engaged. Focus on content first, then find the best tools to deliver that to your audience.
2. The right equipment
Whether you're a production company providing hardware to a client, or you're an independent creator, there are a few tools that will take your production from zero to viral (in a good way)!
When we have a client who needs remote video production, we ship a layman-friendly video production kit. It comes with production essentials like lighting, tripods, microphones, and even a green screen if they need it. For the camera, we actually encourage clients to use their cell phone camera because nearly every modern smartphone today records in full HD format and auto-adjusts lighting for a broadcast-ready picture.
3. Simu-live
Try recording your video content ahead of time and streaming it to your viewers at a set time as if it were live. For the attendee, it's the same experience as a live stream. You can also still provide opportunities for interactivity if you use an event platform with integrations for audience engagement,  Simulive is a great option when you have many contributors in one conference. If someone's internet is shaky or they slip up on their lines, you can always shoot retakes!
4. Virtual backgrounds
 Just because you're filming or streaming at home doesn't mean you have to look like you're at home. Using a virtual set or even just a sleek virtual backdrop are inventive ways to add some visual pizzaz to your production. Creating a virtual set can be as simple as utilizing Zoom's automatic background changer. The virtual meeting platforms' popular feature has been around a while, but after the pandemic and Zoom's recent updates like a green screen feature and looping virtual backgrounds, everyone in your morning meeting is using them.

New Zoom background pic.twitter.com/o84p95uMYN

— Zach Love (@zijital) March 31, 2020
5. Virtual Sets
We've talked a lot about virtual sets and studios because we use them a lot. Our clients have always preferred virtual sets as a less expensive, greener option than their physical counterparts. But now, it's one of the only options if you want to appear somewhere other than the kitchen table.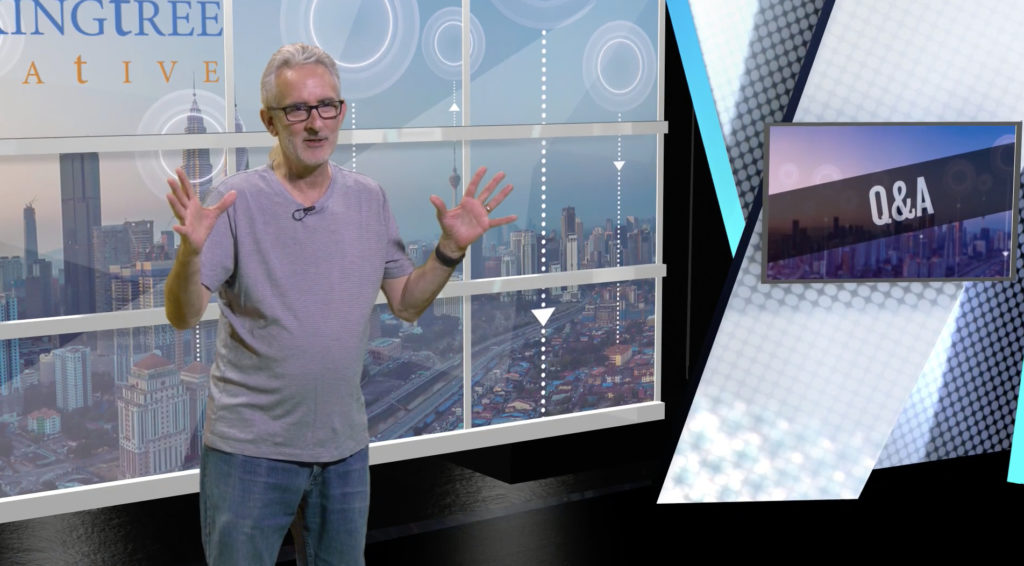 Virtual sets take virtual backgrounds a step further. When a remote presenter requires a virtual studio set, we send them one of the kits we mentioned above with some lighting and a green screen sized to fit their needs. A 3D graphics artist will design a custom studio set, and when it comes time to shoot or live-stream, we can direct and produce the content remotely. 
As remote work is projected to be the new normal, we believe virtual sets will likely become part of that new normal when it comes to video production. Even as the world starts easing up on social distance restrictions, big venues and studios will unlikely return to normal capacity. If broadcast-quality remote productions are essential to your brand, check out small local studios that will be able to accommodate small groups once quarantine is lifted in your area. 
6. Remote Directing
Remote video production can seem a bit daunting at face value. However, just because you can't meet with producers in-person doesn't mean you're on your own. When our clients need to create remote video content, we still drive the process. For example, here at TTC, we've combined a handful of video and streaming tools to create an infrastructure that allows us to control every aspect of a production remotely. 
While there are great options on the market now, with the current COVID situation and lasting implications, streaming software will continue to get better and more accessible. It's important to be testing new solutions all the time. Here are some of the tools we've integrated and use on a daily basis here at TCC:
Wirecast is a great tool for producing and streaming live events. We like the unlimited inputs, live encoding, PTZ camera control and more for virtual conferences and galas. 

Just like regular com headsets for live events and broadcasts, Unity is a web-based intercom solution for remote virtual productions. 
Easylive.io is another production software that operates as a cloud-based studio. It's great if you're looking for a way to control a live streaming production from your browser.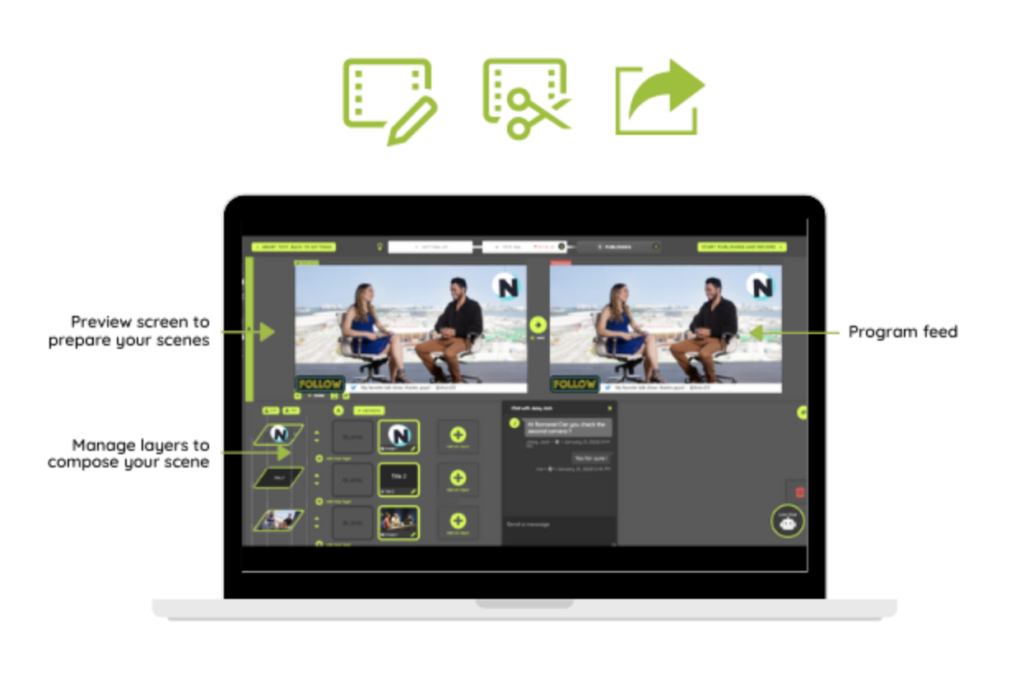 7. Optimized Live-stream capabilities
If you're live-streaming an event with multiple presenters/contributors, you'll need to have a solution that broadcasts HI-Res video from anywhere to anywhere. A tool like Medialooks Video Transport will transmit live feeds over the internet and optimizes video quality by monitoring each contributor's internet speeds. This means you'll be able to ensure your contributors are able to stream at the best possible quality according to their connection. We also use this tool for other behind-the-scenes actions like streaming a return screen back to contributors displaying cues, guest lists, attendee questions, etc.
Ready to take quarantine by storm and start making some remote video content? Get in touch today and we'll chat more about your upcoming project.