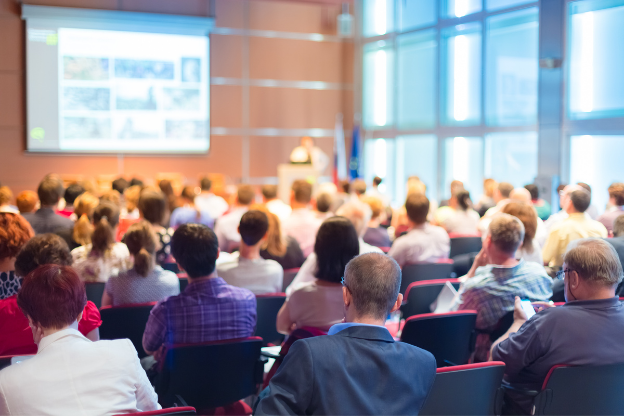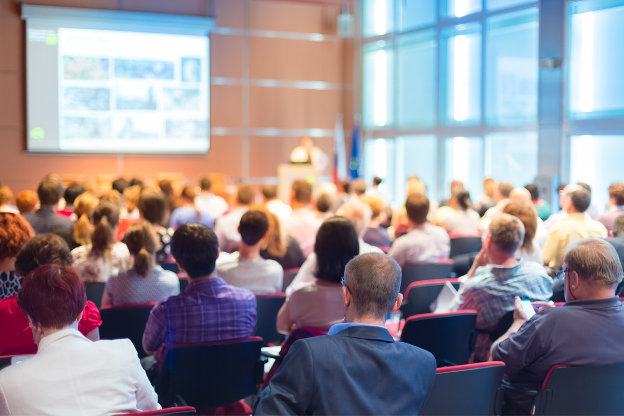 The future of event planning raises a number of questions. With the rise of new COVID-19 variants, how will regulations on gatherings evolve? After so much time spent attending events virtually from the comfort of their homes, will attendees be willing to travel to be there in person?
While we have no way of knowing what the future holds, we can identify some of the key emerging trends for 2022 that give us some insight into the future of event planning. Check out these five trends that are shaping the future of event planning:
1. There is a pent-up demand for face-to-face interactions.
After nearly two years of Zoom meetings and virtual conferences, it's not surprising that individuals are craving human interaction. 
However, COVID-19 has put sanitary measures at the front of the public's mind, so in-person events require streamlined health and safety protocols. Attendee safety is reported as the biggest obstacle to event planning. In fact, 48% of event designers say commitment to following local health guidelines is the most important concern when selecting a venue.  
So, if organizers want to meet the demand of in-person events, they'll have to conquer these challenges by checking vaccination statuses or requiring negative COVID-19 tests in order for attendees to enter venues.
2. Everyone is adding virtual/streaming events to live/in-person events.
Even after the pandemic is behind us, organizers will continue to offer hybrid events that offer live streaming for remote attendees. A hybrid event is not two different events but a singular event with two experiences. An ideal way to execute this is utilizing both a virtual event platform and a mobile event app. Both should include as much of the same features as possible such as the same themed graphics, accessibility to live sessions, and chat features. 
At TalkingTree Creative, we provide clients all these features and more through our event consultation and engaging production services. Our team is constantly pushing boundaries and finding new ways to market and manage your event to your needs.
Recommended reading: Virtual, Hybrid, and In-Person Events: What's the Difference?
3. Including remote access is crucial.
Don't think that because in-person events are back that means you can forget about offering remote access to your live events. After almost two years of saving money on travel to and from conferences and being able to attend events from the comfort of their homes, individuals do not want the option of attending events virtually to be taken away from them. 
In fact, according to a MarTech survey, about 32% of respondents said they would prefer a hybrid event where the in-person experience is smaller and more intimate paired with a large virtual experience. Additionally, 38% said they would attend the virtual components only.  
4. Plan to pre-record your event for remote attendees.
If you're hosting a hybrid event and have remote attendees in addition to those attending your live event in-person, it might be beneficial to pre-record. 
Sometimes, when viewers are watching the live event from home, the in-person demonstrations, attendee questions, and interjections don't have the same effect as they do for the in-person audience. This might cause them to lose interest and ultimately log-off. 
Other benefits to pre-recording include a more scripted and polished presentation since editing, re-arranging, and handling outtakes are all possible. Also, the content can be reused over and over again for marketing and lead generation purposes!
5. Creating content is critical for live events.
Companies typically miss out on a lot of content-generating opportunities because they get so wrapped up in the event production logistics. No matter how busy you are leading up to the event, take time to gather a variety of content to display at your live event. This could include demonstrations or tutorials, customer testimonials, behind-the-scenes pieces, news posts and executive features.
You might also want to consider using interactive content along with your static content. Interactive trade show displays encourage visitors to hang around longer as you offer a personal and engaging brand experience. Specifically, interactive content engages audiences twice as much as static content.
Partner with TalkingTree for Your 2022 Events
Our team at TalkingTree Creative team are experts at designing and creating interactive media productions that brands can use to effectively showcase their values, products, and services. We can custom design booth elements that range from mobile games to motion sensitive projections to virtual reality. We want to give customers the opportunity to experience brands we love and respect in new visual mediums and forms. Contact us today for a consultation!