2022 Year in Review: Live Events and International Marketing Campaigns
2022 has been a triumphant year for many of TalkingTree Creative's clients. After countless webinars, zoom happy hours, and virtual conferences, many businesses finally made their return to live events. Those who trusted us to oversee their transition to the virtual world returned to us for help meeting guests' high expectations.
In addition to producing our first live events in two years, we also got the opportunity to work on international marketing campaigns and virtual tours. This has been an exciting year for our team. 2023 is approaching fast, so we compiled a list of some of our favorite projects we had the privilege of working on this year. Read on to see what we accomplished so far in 2022.
Hughes Global Sales & Marketing Meeting

Hughes has partnered with us on video, event, and even virtual reality projects many times over the years. For the past 15 years, they've trusted us to produce their annual Sales and Marketing Meeting. In 2020 and 2021, we pivoted to virtual events, but this year, we spearheaded their return to live events. The Sales and Marketing Meeting would be just the first of multiple in-person events we produced in partnership with Hughes in 2022.
Every year, Hughes brings their team together to participate in professional development, team-building, and idea-sharing. The event aims to inspire Hughes team members as they enter the new year and unites colleagues around a shared vision. This year's theme, Hughes – the Force of the Future, sought to reinvigorate the team in the wake of the pandemic. 
Despite having just a short window of time to prepare for the event, we found creative ways to repurpose resources used in previous years. Through dynamic event experiences, including custom video content, environmental design and thought-provoking presentations, the Hughes Sales and Marketing Meeting set an inspiring tone for 2022.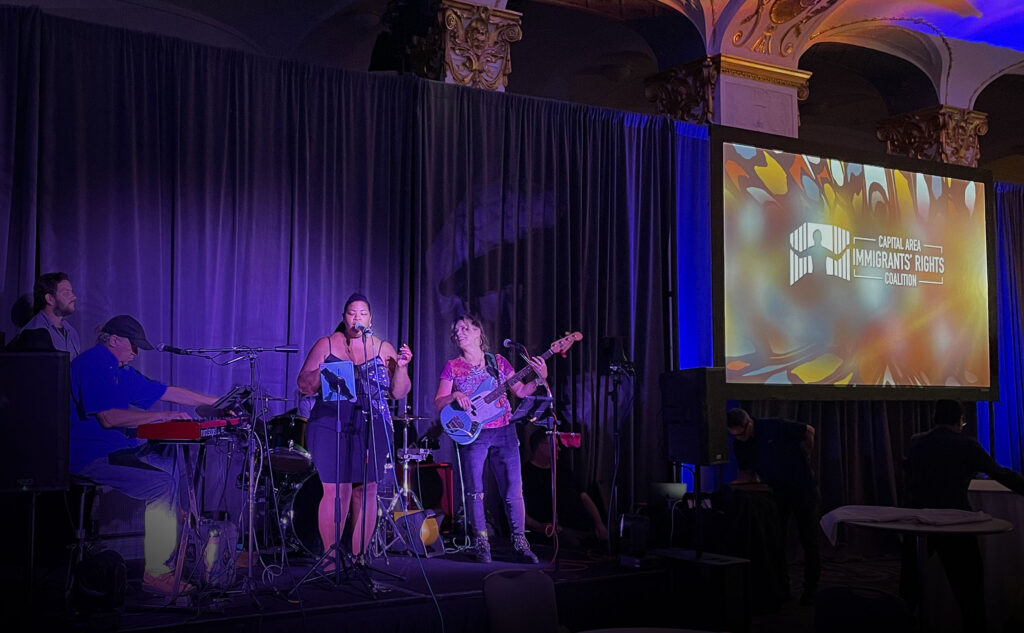 Many businesses that transitioned to virtual events during the pandemic returned to in-person events in 2022. CAIR Coalition sought our support to produce the first live awards gala they've hosted since the pandemic. As a nonprofit organization dedicated to providing legal services to immigrants, guests included members of congress, state representatives, law firm council, and their families. 
After hosting a virtual gala in 2021, CAIR Coalition wanted to take this event to the next level. Despite their limited budget, we helped curate an event space encouraging guests to enjoy the programming from anywhere in the venue and network with others.
HughesNet Retailer Summit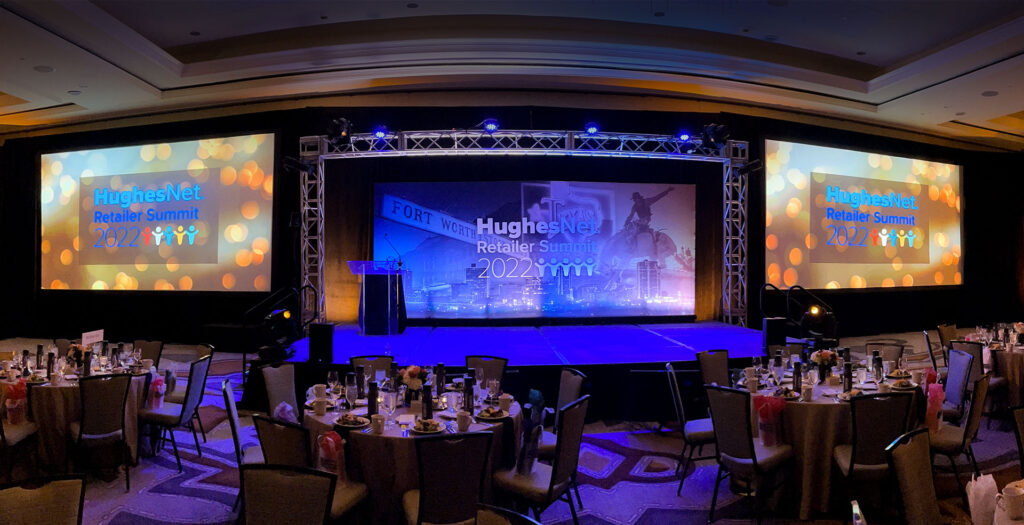 The HughesNet Retailer Summit is an incentive event for retailers of HughesNet. This annual event is always one of our most exciting productions of the year because we get to let our most creative ideas shine. 
The event takes place in a new city each year, and the culture of that city inspires the themes woven through each aspect of the event. In the past, we've produced events in Nashville, Williamsburg and more.
This year, the event took place in Fort Worth, Texas. With the lone star state as the setting, we landed on a cowboy theme, which inspired our custom video content, a themed stage, presentations and the award dinner.
In addition to event and video production, we also support Hughes at trade shows, so they can make a great first impression on prospective clients. Our team produced video content and provided other video services to supplement their exhibit booth. Hughes also enlisted our skills to produce an engaging press conference at the show, where they could announce exciting industry news. 
Digital marketing campaigns
An NGO enlisted our support designing marketing collateral and producing an international advertising campaign aimed at raising awareness about COVID-19 vaccines. The campaign aimed at raising awareness among vulnerable populations across Latin America with the goal of increasing vaccination rates and reducing the spread of infection.
Despite widespread access to the vaccine in the United States and other countries, there are still many populations who lack awareness and easy access. In order to increase vaccination rates among the most underserved populations, our campaign focused primarily on countries and cities where the need is highest. Digital billboards displayed along public transportation routes provided information on vaccines and QR codes viewers could scan to learn more. 
Gerstel came to us for support showcasing their lab and answering common client questions right on their website. We designed and deployed a 360° immersive experience clients could experience without ever stepping foot in the lab. 
The interactive virtual tour shows viewers their analysis lab. Icons within the tour allow viewers to interact with the environment and learn more about the analysis station through a pop-up video or an infographic explaining how particular tests work. 
Clients and guests alike have been awaiting the return of live events, and we're grateful for the opportunity to help them create memorable experiences. Even as live events return, many of the capabilities we've gained from virtual events and remote work continue to impact event marketing, video production, and more. 
As video content grows, marketing campaigns become more dynamic, and events take a more hybrid approach, we'll be here to help you create unforgettable experiences – no matter the format. Check out our portfolio to see more of our work in event production and video content creation.