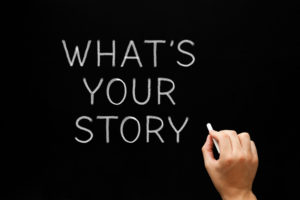 A fresh coat of paint ushers in an opportunity to reflect, review, and lay the groundwork for the future. TalkingTree Creative is a full service event marketing and communications company that transforms brands and generates engaging experiences for a wide range of businesses and communities. We offer a unique skillset in creative content, event planning, motion media, and entertainment. In this post we'll get things started by giving you a little insight into the kind of work we deliver. And if you're new to TalkingTree Creative, there's no better time than now to get acquainted.  
Finding Your Audience
Whether you're a business, community organization, or nonprofit fundraiser—we all have a story to tell and a message to send. Finding your audience is the first step towards communicating your goals. All too often companies overlook the power of their own brand, which results in difficulty reaching out to their intended audience. Personalities and cultural nuances are always changing, so it can be challenging for your brand to stay relevant. With TalkingTree Creative we guide you through the entire creative process, from designing and developing art direction to planning and organizing events.
Devising an Effective Strategy
Creating a unified, compelling brand strategy is an essential component of the storytelling process. At TalkingTree Creative we don't simply spit out videos or throw together a list of AV equipment for your events, we produce emotionally engaging experiences. Our technique is scrupulous, and it begins by researching your company and brand. We want to know everything about you—put ourselves in your shoes, so that we can convey a genuine and appropriate voice. Next, we develop a vision that is uniquely tailored to your company's needs and structure it in a way that will resonate with your audience. Finally, we engineer the infrastructure that will enable you to host an event that successfully connects your message with your audience. Throughout the entire process, we never lose sight of your company's particular goals.
Services Rendered: Motion Media and Video
If a picture is worth a thousand words, then a video is worth a billion. TalkingTree Creative has the know-how to create custom video stories that carefully illustrate your company's narrative. In the rapidly evolving digital landscape, video is a cultural touchstone you can rely on. Whether it's rich visual content for a live event, a product rollout video, corporate documentary, trade show or fundraising video, TalkingTree Creative can help you put your viral video ideas into action. Our production capabilities include, but are not limited to:
Scriptwriting and storyboarding

Event and ambient audio

Sound design

Motion graphics, title design and animation

Digital décor, projection and pixel mapping
Visual content is exciting, and it's the key to making your live event stand out head and shoulders above the competition. Video is one of the few things that can leave a lasting impression in the minds of your audience. But video can't rely on flashy visuals alone. Original content is the cornerstone of effective visual storytelling. Some of the types of video content we can help produce include:
Short dramas

Comedies

Talk shows

Person-on-the-street interviews

Promotional graphics

Documentaries
TalkingTree Creative also offers video content production for digital signage, internal corporate television, and streaming events. Our video products can seamlessly integrate with any size screen or over any network. We assist you in developing video that aligns with your company culture and messaging, including promotions, customer stories, new product and services, education, training, and company profiles. When it comes to visual content, the only real limit is your imagination.
Working with an experienced multimedia production company can help bring your brand into the forefront of modern marketing and communication. Although our production company is based out of the Baltimore-Washington region, we are flexible and can work with clients throughout the country.
Event Planning
An event serves as the hallmark of all your creative strategies. It's the ultimate culmination of your brand message, but event planning can prove to be a cumbersome and overwhelming endeavor for anyone that isn't familiar with the process. That's where TalkingTree Creative comes in. With our skills and expertise we can help you arrange, manage, and execute a successful event. We specialize in logistics planning, from attendee registration to hotel banquet orders. You can rest easy knowing that someone is doing the behind-the-scenes heavy lifting while you focus on what really matters: telling your story. Our core event capabilities involve:
Event management

Creative approach

Stage production and décor

Live entertainment

Video production and streaming
Big or small, TalkingTree Creative has the know-how to put together events that serve a wide variety of venues. You can be the hot topic at your industry's next conference or trade show with an outside event of your own, or wow your audience with a corporate event they'll never forget. Other event projects we frequently work on include, but aren't limited to:
Industry award banquets and presentations

Exclusive product roll-outs or grand openings

Live music shows and custom theatrical events

Customer appreciation and motivational events

Non-Profit fundraisers and galas

Community events

Virtual streaming events
So forget the team-building exercises. Creating a real connection between your audience and your brand requires entertainment and engagement. Whether it's musical entertainment, original video content, or your very own custom theatrical, TalkingTree Creative can transform your next event into something that will live on in the minds of your audience.
Live Entertainment
Audiences demand engagement, not simply a company lecture. An entertained audience is more likely to be receptive to your message and retain the information you're delivering. At TalkingTree Creative we produce entertainment that is emotionally engaging and fits with your organization's goals, theme, message and most importantly – culture. Our team has extensive experience in media production and performing arts. We can help you incorporate live music, book a nationally recognized act, create custom songs and jingles, or produce entertaining video content.
At TalkingTree Creative, music and entertainment are a core part of our DNA. There are nearly endless ways to create a dynamic experience that speaks to your company or organization's story. If you're planning an event, your attendees deserve a presentation that's worthy of their time. TalkingTree Creative takes that responsibility very seriously.
A Reliable Partner
Anyone who has delegated responsibility before knows the headaches that can involve. It's essential that you have confidence in whomever you're relying on to get the job done right. TalkingTree Creative is a trusted and reputed production company, and we've partnered with companies from a wide breadth of industries including:
BAE Systems

Discovery Communications

Hughes

KPMG

Pricewaterhouse Coopers

Shaw Systems

SunTrust Bank

TECOM Industries

The Washington Times

Wave Systems
We understand the importance of choosing a partner who is accessible and easy to work with. Visit our portfolio page to learn more about some of our working relationships and the exciting experiences we've helped create.
Tell Your Story Today with TalkingTree Creative
Ready to share your story? TalkingTree Creative is your premier guide to brand strategy, event planning, video production, and live entertainment. With help from our production experts you can elevate your audience and transform your next event into a fully engaging, memorable experience. We are located in the Baltimore-Washington Metro area, but are ready to accommodate the needs of businesses and organizations anywhere in the U.S. Get in touch with us today at 240-252-1200 or 202-684-2225, and let's start a conversation. Find out what we're up to on Facebook, Twitter, Google+, and Pinterest.